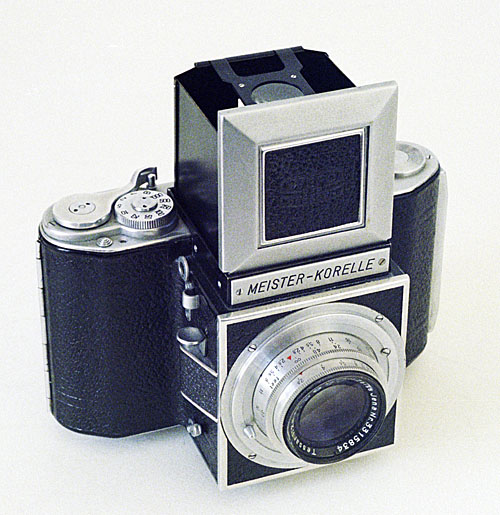 [C418_6a.jpg]
This particular Meister-Korelle has a small-diameter Carl Zeiss Jena Tessar lens
mounted onto the large throat of the camera
via an adapter ring.
In 1950 in eastern Germany, the company VEB Wefo announced that it would produce a new 6×6 SLR, to be called the "Meister Korelle". Hummel reports that shortage of materials and other delays eventually led to the closing of the Wefo factory in 1951. To make use of the Meister-Korelle parts that had already been manufactured, assembly of the camera was transferred to KW in Niedersedlitz, which produced the camera until mid 1952. According to Hummel, a total of approximately only 2,500 Korelle cameras had been produced between 1947 (sic) and 1952, "A small number, even for the conditions of the time", he comments (p. 120)

Features


This had one, non-rotating, shutter speed dial with the speeds B 1 sec 1/2 1/5 1/10 1/25 1/50 1/100 1/250 1/500 and a top speed of 1/1000. Flash synchronisation is reported by some to be provided by two contact pins, although on the two Meister-Korelles that I have handled I have not been able to find any flash synchronisation sockets.

The film advance lever was on the right-hand side of the top plate (as viewed from behind), as has now become standard practice. After advancing the film to the first frame, using the red window on the back, a cover was slid over the window and a small button on the camera top plate was activated to set the counter to number 1. Thereafter the film was advanced by the lever without needing to use the red window.

An f/3.5 85mm Meyer Primotar was supplied as standard, in a 58mm × 1 screw thread mount, with an f/2.8 80mm Tessar T lens from Carl Zeiss Jena available as an alternative. The Tessar incorporated a pre-set ring.

The Primotar is much larger than the Tessar as supplied with this camera, and this lens added to the overall depth. The dimensions with the Primotar were 6 3/16 × 4 17/32 × 3 15/16" (157 × 115 × 100mm), although at 1lb 14¾oz (c. 875grs) the Meister-Korelle weighed virtually the same as the Noviflex of 15 years earlier.